Tour de Mull
---
One of the best things about being in the triathlon club is that there is never a lack of enthusiastic and energetic people to do stuff with. So when David and Tam suggested a wee cycling holiday around the Isle of Mull it wasn't long before Alice, Rebecca, Tessa and I jumped on the bandwagon to join the adventure. The plan was for three days of relaxing cycling around the pretty west coast island, with lots of food, some drinks and plenty of laughs. It certainly was that, and much more.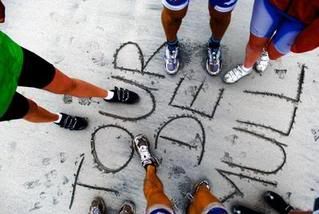 We started the trip like any triathlon adventure with a 5:30am wake up call. It wouldn't be a EUtri trip if we were all well rested after all. The train from Edinburgh to Oban went smoothly, we had anticipated some bike troubles, but thanks to Davids careful planning the bikes made it there in one piece. Once at Oban however, we were confronted with our first dilemma. We were told that our ferry had been cancelled and that the next ferry wasn't for another two hours. We did some quick calculations and realised that gave us only three hours to cycle the 60km across the island to get to our next ferry to the Isle of Iona where we had booked a camp site. Now, to you experienced cyclists 60km in 3 hours may seem like a doddle, but we were faced with the uncertainly of not knowing what the roads would be like, nor how hilly it was (images of the mountainous Isle of Lewis kept popping into my head). So we settled that the only thing to do would be to replace the relaxed pace cycle with plenty of stops to admire the scenery, with a blow out sprint across the island in a vain bid to make it to the ferry on time.
Thankfully, the mountains were molehills, and the roads were an alien smoothness to the pothole haven we were used to back in Edinburgh. We made it in good time and managed to get the second to last ferry across to the tiny Isle of Iona (only 1x3miles big) where we found our campsite. The weather was amazing, which seemed strange as only a day before tourists were rescued from flash floods, crumbled bridges and land slides. At 7pm we were lying in the sun and even went for a dip in the sea, which, despite the white sands and Mediterranean coloured sea, was nowhere near tepid! We finished day one with a pub dinner, a couple of pints and a walk around the village.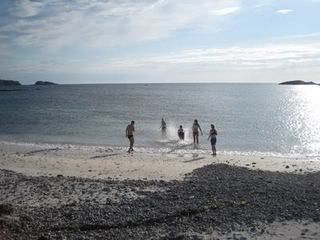 Day 2 once again started bright and early. You have little choice when sleeping in a tent. We packed everything up, returned the rented equipment (tents and sleeping bags) and cycled of to try and make the next ferry back to Mull. We arrived at the port to see the ferry close its hull and set sail. It seems catching the intended ferries is not our forte. Just as we were about to turn and find some breakfast before the next ferry arrived, the leaving ferry blew its horn to get our attention. It seemed that although it was about 10meters out at sea already, it was reversing to come back for us! We all stood there in amazement as it lowered its door for us to board. The passengers on board were just as baffled and didn't seem sure if this was a sign for them to disembark. This little act of kindness certainly left us high-spirited as we set of on the 80km cycle to the other side of the island.
So far it seemed we had overcome two dilemma's with little qualm. Nothing could stop us in our explorations. Nothing, except possibly collapsed bridges, land slides and closed roads! We stopped in a little shop to pick up breakfast and were quickly informed by the locals that the road we were intending to cycle had been closed due to weather damage. This is a major problem on an Island that only has 3 roads. We had two options; take the other road which meant we wouldn't be able to climb Benmore (the only island Munro apart from the one on Skye), or try and clamber over the land slides and wade our way through the waters where the bridges had collapsed. I think you can guess which we decided to do. Whoever said that road cycling isn't EXTEREME! So off we set, passing numerous 'Road Closed' signs, and being stopped and warned by ever local we passed.
It seems our luck hadn't run out yet, the islander had done a very quick job with clearing up the land slides, so there was nothing for us to clamber over. As for the bridges, the locals had been melodramatic by using the words 'wade'. Although the bridges had collapsed, it was still pretty easy to cross them, and the crashing river current we were expecting were actually little streams that only posed the risk of wet socks. Maybe road cycling is (de-capitalised) extreme.
Despite all obstacles we made it to the base of Benmore, where we refuelled and rested before starting the 3,169ft accent. David, Rebecca and I decided to climb to the top of the mountain, while Tam, Tessa and Alice came half way before turning off and heading for a café in the next village. The climbers made it to the top and down in good time, although once back at base camp realised that having cycled 60km in the morning, with a mountain climb was going to make the next 20km to Tobermory very tough. We set off and just to make it worse we were confronted with two massive hills and some serious rain. We all nearly bonked (cycling term for being hypoglycaemic) and had to stop abruptly and rummage manically in our bags for all the sugar we could find. Walking into the warm hostel after that day couldn't have been any nicer. That evening the six of us ate more than a family of elephants, did some shots of David's finest home brewed Rakija and then hit the hay for a well deserved rest.
On Sunday we woke up to rain, and quite a lot of it. But never mind we thought, it wouldn't be a Scottish summer holiday without at least some downpour. We once again set of high-spirited and for the first time very well rested. Furthermore, it seemed we had one bit of luck left, the rain only lasted the morning, and the majority of the day was dry and fairly clear. We must have had some good karma…although evidently not quite enough. As we were coming down a very windy hills Tam crashed of her bike. She lay on her back in the middle of the road with her bike a couple meters from her. Just as Tam came off her bike I simultaneously got a puncture. All the drama happened at once! We helped Tam to the side of the road where she lay still waiting for her pounding headache to go, all the while cursing at Charlie (her bike) for letting her down. Tessa fed her ibroprofene while physiotherapist Alice assessed the damage. Meanwhile Rebecca and I managed to fix up a hole in my tire and replace a punctured inner tube. Tam pulled through, managed to pose from some comic crash photos, and then got back on her bike to lead the group on. What a trooper.
Cycling that day was very hilly, and because of Tam's fall and my dodgy tire we had a slower pace than normal. To make things worse I punctured again, and had to put another different patch on the tire with another new inner tube. All these set backs meant that we were considerably behind schedule once again, and had to really up the pace for the last 40km of the day. Top tip for anyone planning a cycling trip, give yourself more time than you think you'll need…sh*t happens!
We made it back to Craignure just in time to grab a hot drink before the ferry arrived. We successfully completed a round trip of the Isle of Mull with a fall, a couple of punctures, some sprinting, a Munro climbing, a sea swim, acrobatics, 'river wading' and some home brewed Rakija. It couldn't have gone any better.