You are herePeople's Triathlon - Shropshire 2013
People's Triathlon - Shropshire 2013
---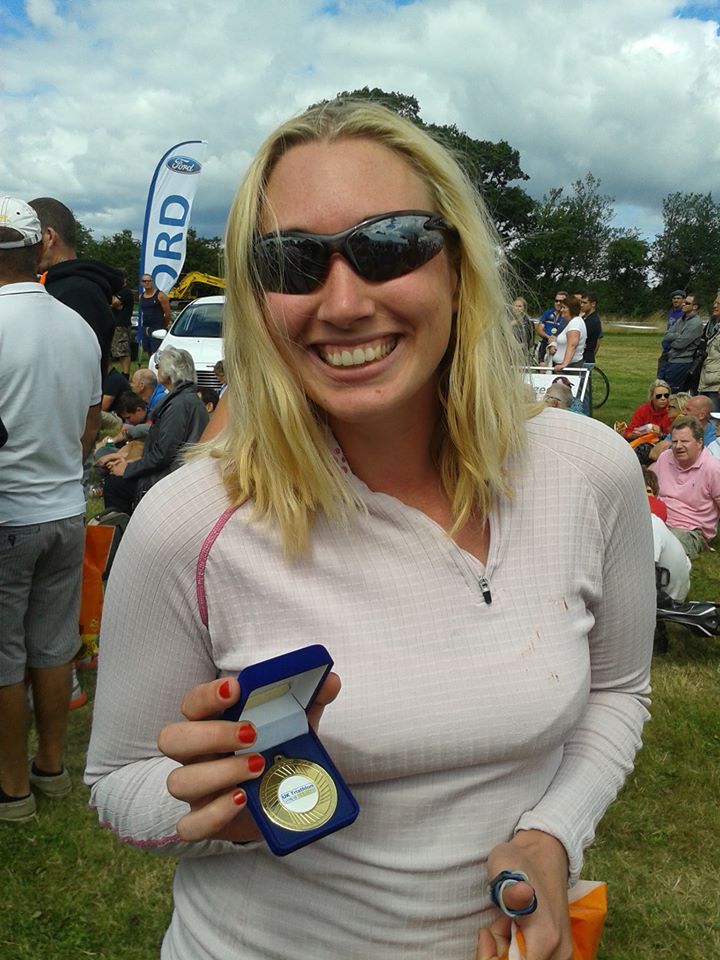 As it was my first ever Olympic distance triathlon (1500m swim, 40km bike, 10km run), you can imagine I was feeling nervous as I prepped the night before race day. But throw in a complete lack of swim training since April, only the occasional run, and having only just got back from holiday, I surprised myself when I decided not to drop out. All I wanted to do was cross the line in one piece.
The race was local to me, so it was nice to be able to set off at a reasonable time for once! The day was a bit overcast as I went to set up transition, feeling apprehensive but starting to get excited too; I hadn't raced all season, so arriving at an event with everyone buzzing, I couldn't help getting caught up in the atmosphere.
It was an open water swim, and, having suited up and chatted to some other competitors, I headed down to the start for race briefing. Before I knew it, the marshal was telling us to get into the water and began the countdown to the start. Now, anyone who knows me as a triathlete knows that swimming is definitely not my forte, so I hung back a bit when the horn went, to avoid the craziness of a mass start as best I could. It took me a while to settle into my rhythm, but once I got going, the nerves began to dissipate, and I managed to gain some ground on the other competitors in the latter stages. I was chuffed to leave the water in 32 minutes, and headed to transition. I felt dizzy and disorientated as I struggled out of my wetsuit, but with my family cheering me on, I managed to throw on my biking gear and head out of transition knowing the worst part of my race was behind me.
Onto the bike (by far my best discipline) and I started to really enjoy the race. The route was 4 laps going along a bypass, and wasn't particularly technical, so it made for some fast racing. The laps ticked by with significantly less effort than in the swim, and I even managed to overtake a few people too! On the last lap I tried to conserve some energy for the run, but I ended up pushing myself right to the end; I always get overexcited on the bike!
Entering transition for the second time, the familiar jelly legs feeling known to all triathletes made itself known as soon as I hopped off my bike; so, I took my time getting my trainers on, making sure I had some water and an energy gel to try and keep me going for the final leg – the 10km run.
It was mostly flat, 4 laps around the lake, mostly on grass. I enjoy running on grass generally, but the surface was quite uneven in places, and there were a couple of hairy moments when I nearly went over on my ankle. All that kept me going was the thought of how close the end was, and hearing my family cheering at me to keep going. In the final lap I even managed to overtake someone – I'm always the over-taken on the run, never the over-taker!!!
So I was ecstatic to cross the finishing line, beating my target of 3hours comfortably, and surprised myself in winning my age group and coming 4th lady overall! Sitting writing this now with a massive slab of celebratory cake, I am so happy to have completed the race; my body is pretty sore and I have blisters on my feet, but I got a medal and a brilliant striped swimming cap as prizes, so I am not complaining one little bit!