---
A tour bus containing thirty-something EUTriers and a respectable number of sombreros and more Mexican-themed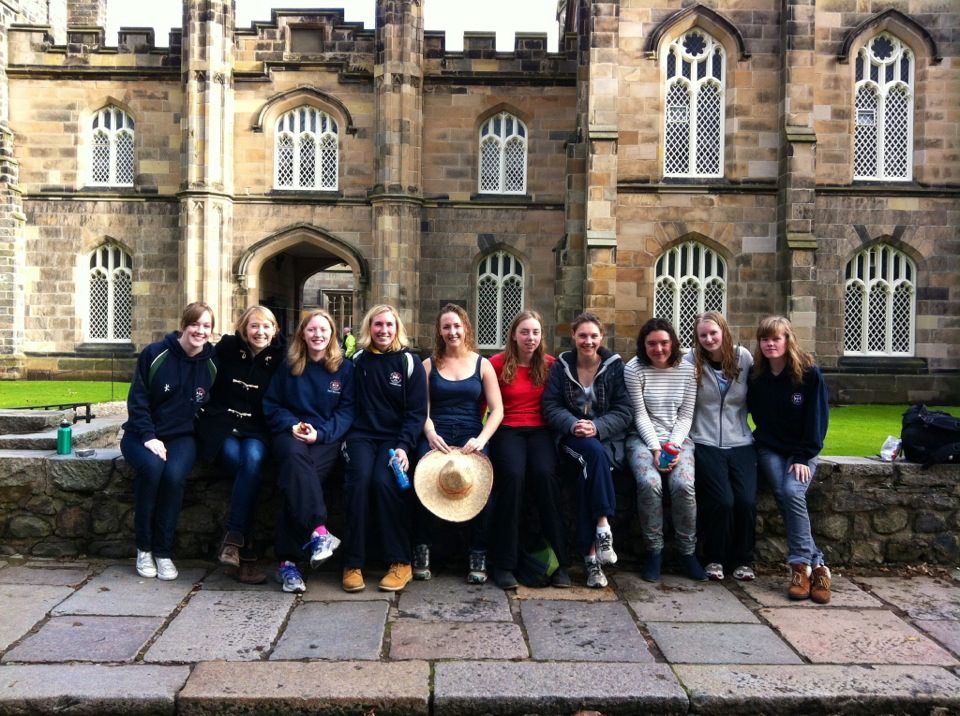 paraphernalia departed from an otherwise abandoned George Square on the morning of Saturday, 20 October 2012. For a fair number of those aboard the bus, myself included, the Aberdeen Aquathlon taking place that afternoon was to be their first endeavour in a multi-sport event, as well as their first race representing EUTri. The more experienced club members' encouragements and willingness to answer the strangest of questions in the weeks prior to the race had left us feeling up to the challenge and ready to conquer the 22 lengths of that 18-metre pool and the following 5k run, consisting of three laps of the university.
One of the best things about being in the triathlon club is that there is never a lack of enthusiastic and energetic people to do stuff with. So when David and Tam suggested a wee cycling holiday around the Isle of Mull it wasn't long before Alice, Rebecca, Tessa and I jumped on the bandwagon to join the adventure. The plan was for three days of relaxing cycling around the pretty west coast island, with lots of food, some drinks and plenty of laughs. It certainly was that, and much more.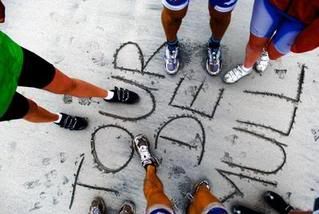 After many months of training, a handful of EUTri's finest ventured into the wilderness to brave the Aberfeldy Sprint Triathlon. Though we emerged, I daresay none returned unscathed.
The race times were scheduled to begin at noon, normally a good time to start a race given Scottish weather. This was sufficient time to wake, have a brief breakfast, and begin driving by 8am in order to arrive at Aberfeldy for registration. However, this was to be no ordinary Scottish day. The forecast was what one would normally dream of but which leaves endurance athletes pale with drawn blood at the prospect of racing on a blisteringly hot, sun-flicked course. This is, of course, exactly what transpired with a high of 27 C and not a cloud in the sky.
"You can't just keep doing sprints", moaned my mates, "you need to 'go longer'!" And they were right. So five years after a hesitant middle-aged venture into the sport of triathlon, and three years after a very welcome invitation from the President-before-last to become the oldest member of EUTri, I took a deep breath and signed up for my first "standard distance" race. Or should I say
1. Do I have to be an amazing athlete to join?
Absolutely not.
The club attracts and caters for all abilities - from complete beginners to people competing in international championships.
Whatever your level of fitness and experience - from someone who has never even considered entering a triathlon before, to a seasoned pro with dozens of races under their belt, there will be someone else in the club at the same level as you.
2. I'm an international student/postgraduate/visiting student, can I still join?
Yes! Everyone is welcome!
And we do mean everyone – whether you're an undergrad, a postgrad, an international student, or a visiting student only here for one semester, we would love to have you.
The club attracts a real range of people and has proved to be popular with people of all ages and walks of life. In fact, one of the best things about being part of the club is getting to know lots of interesting people who you wouldn't otherwise get to meet.
At about quarter past 8, we left for Aberdeen in the university minibus which was being driven by Ali. Despite the uncomfortable seats, Tom "the man" (self-proclaimed) was able to go to a soundless sleep soon after we got on and was asleep pretty much throughout the trip amidst all the chatter. We arrived in Aberdeen University at around 11 and went to register. After the race briefing, we headed for the changing rooms next to the pool where our race was going to start. The transition area was laid just before the exit from the pool premises. We donned our trisuits, and gathered for a couple of group snapshots taken by the poolside, courtesy of Erin who was not racing but came all the way to cheer for us with the Eutri banner. Our Eutri wonder women started off their 800m swim in the first wave. After all the female participants finished their swim leg, wave 2 started with the male participants. I was in wave 2 while the rest of my mates were in wave 3 and 4. I'm not used to being in any race without having the coach around, so, was a bit more nervous than usual but the cheer from the rest of my team(after 2 warm-up laps) helped me calm down and get my game-face on.
With race season approaching, Chrissie Wellington - British Triathlete and four-time World Ironman Champion (2007-9, 2011) - kindly offers us her 50 tips for racing success:

1. Surf the event website. Study the course maps and take note of any steep descents, climbs, corners and aid station locations (and what food and drink they offer so you can factor this into your nutrition plan). Look at wave start and cut-off times, and the times of the athlete briefing and registration. Seek advice and insights from athletes who've done the race before. If you're driving to the venue, plan your route and pick a place to park (taking road closures into account).
2. Know the race rules. You don't want to risk getting penalised or even disqualified and having to explain the DNF to work colleagues/teammates/the police. If you're unsure, speak to the race director or head referee...
3. Massages are great, but not the day before a race as they can leave you feeling sluggish. I always have a gentle rub down on the penultimate day. Shave/pluck/clip/wax and make sure you clip your toenails.

4. Don't overhydrate or overeat...
Read all 50 on our blog. "Chrissie Wellington" by Mariano Kamp used under a CC 2.0 Licence

Triathlon Scotland Membership is available starting tomorrow (20th December) for the 2012 season.
Individual members receive a host of benefits including discounts on race entries and apparel, racing insurance cover and a unique triathlonscotland training gift. triathlonscotland members who race will also help their club to gain points in the hotly contested ranking series. Individual ranking awards are also up for grabs across sprint and standard distances as well as open water, cross tri, duathlon and aquathon.
triathlonscotland is the national governing body for triathlon, duathlon and multisports in Scotland and is recognised by both sportscotland and The British Triathlon Federation (BTF).
With your support, we:
Offer club and race memberships

Help clubs to host events and increase participation
Run national championship events

Train coaches to gain recognised qualifications
Coach triathletes to compete on the world stage
Build a strong core of skilled volunteers
All to achieve our mission
'realising the full potential of a vibrant triathlon and multisport community in Scotland'.
To find out more and to join us, visit: www.triathlonscotland.org/join.
And you can follow triathlon scotland on facebook.
Two stories + photos up from the great BUCS weekend down in Bath, one from Michael and one from Katherine.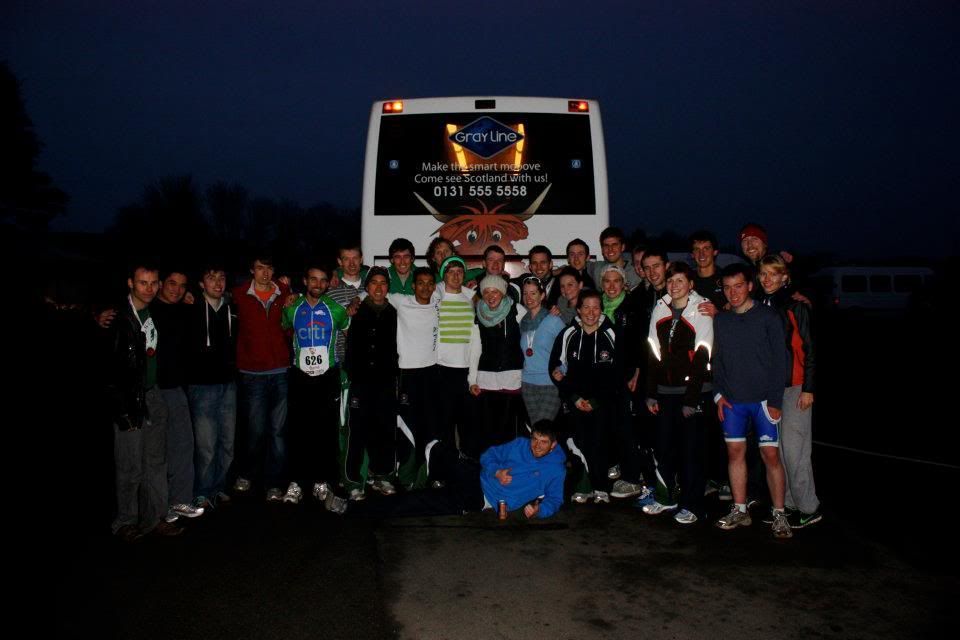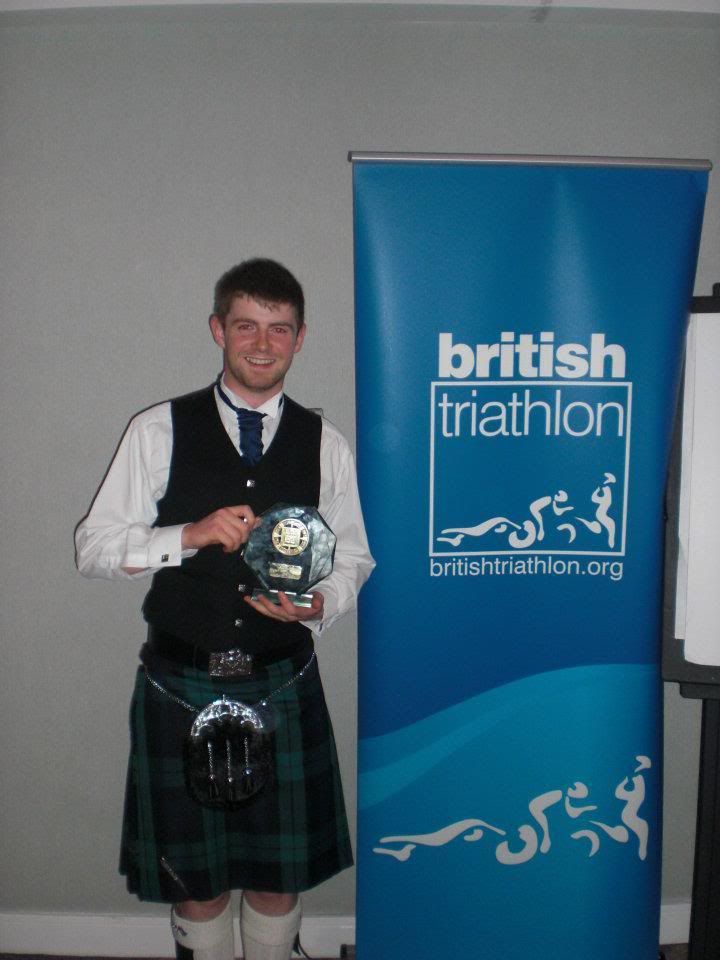 I was nominated for Scottish Young Coach of the Year by Lyndsey and Ali in which you have to be 21 or younger, so I only just made it. Somehow I won that and was shortlisted for the British Triathlon Awards. A few weeks later I received an e-mail saying I had won which was AMAZING, however I was sworn to secrecy for ages.
The awards night was down in Leicester, England. This was unfortunate but we all have to go there sometimes. Triathlon Scotland put on a party bus to take 8 of us down so we set off on Saturday 12th November. I was thinking of all the hardcore of EUTri runners competing in Braids Hill that day... but soon forgot about them when I remembered Crispy Cream Donuts were on sale in English service stations. Anyway, we got to the Barcelo Hinckley Island Hotel for the awards night safe and sound.
I was, of course, sporting a very cool kilt for the evening. There was a champagne reception where we looked for the Brownlee brothers... but no sign of them yet. All the Scots were sat at one table where, between 8 of us, they provided 4 bottles of wine which was not bad at all!